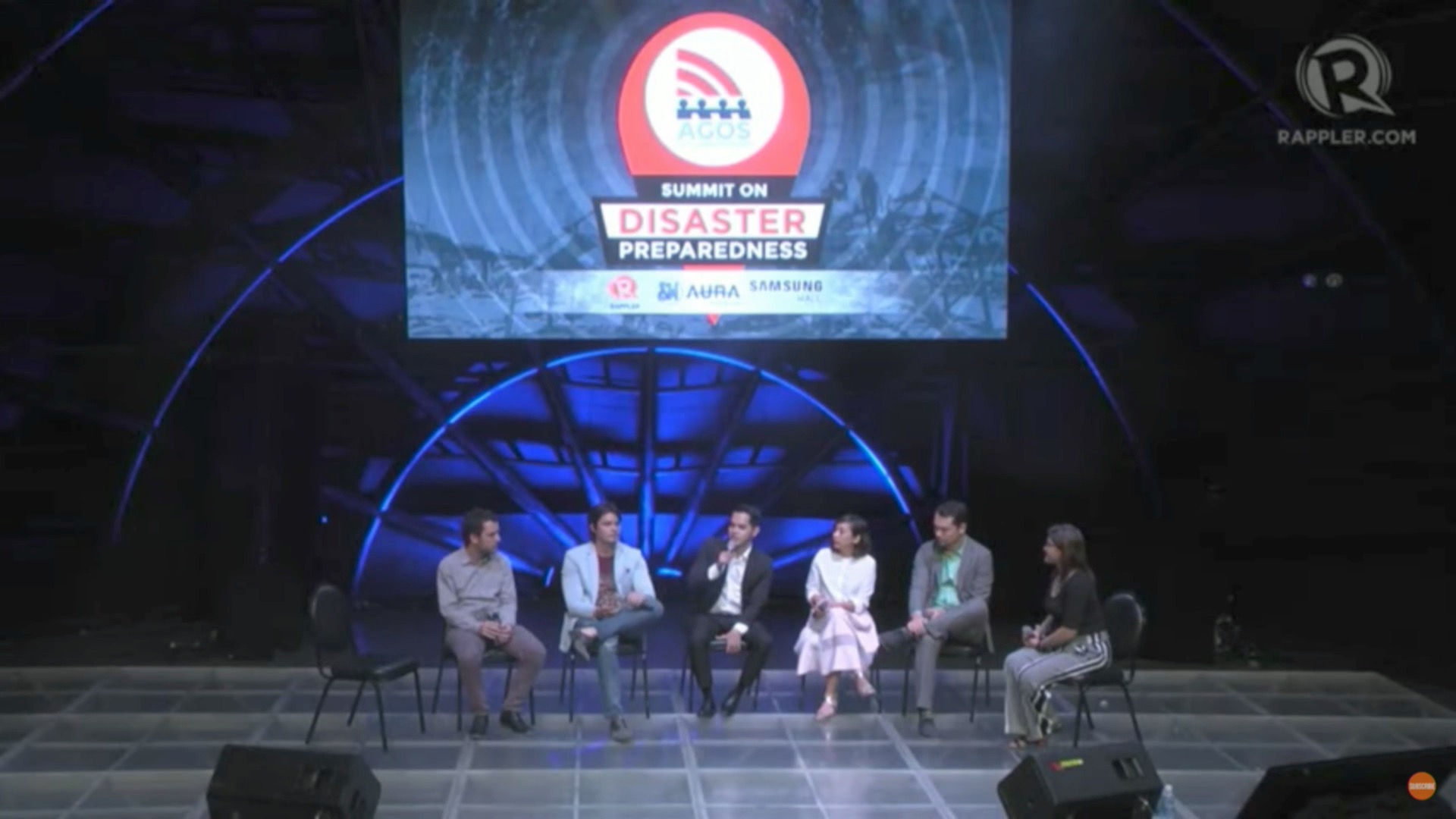 MANILA, Philippines – "Are we just going to be victims, or can we be agents of change?"
During the first day of the Agos Summit on Disaster Preparedness on Friday, July 7, advocates talked about the role of vulnerable sectors in the movement for climate action and disaster resilience.
Climate Change Commission's Rina Atienza said that while women are the most vulnerable demographic when it comes to climate change, it's also women who are leading the change in addressing the effects of climate change.
"The world is looking at us. Climate change is a global issue with local implications. Are we leaders or victims?" Atienza asked, urging also the men to "be part of this feminist solution."
What about the children and the youth?
Javier Bornstein, emergency and disaster risk reduction officer of UNICEF, also noted that children are the most exposed to climate change, with a "very high number" of them living in the most vulnerable areas in the Philippines.
"Children are more vulnerable physiologically to climate change's effects…. Children are more likely to get injured by impacts of typhoons and other disasters," Bornstein explained.
But many times, he said, children and youth are not consulted and properly included in decision-making processes.
"I think that's a key issue why our children are more vulnerable, because their specific needs and vulnerabilities many times go unnoticed because they are not given the voice to express the risk that only [they] can perceive. [It's] important to give them a voice," Bornstein added.
Actor and YesPinoy Foundation chair Jose Sixto "Dingdong" Dantes III agreed, saying the youth are vulnerable because they are not included in the process of planning and implementing.
"Imagine, what if we include them in the process? What if we empower them more, put them in the NDRRMC, put them in the PDRRMC? What if we get their inputs? We will understand more some of the issues, because I believe aside from being just volunteers, the youth sector can do so much more. We just need to empower them," Dantes said in a mix of English and Filipino.
Paul Pangilinan, commissioner-at-large of the National Youth Commission (NYC), said the often-misunderstood millennials are actually the "number one eco-warriors in the country."
"Millennials we know don't settle for mediocre roles. They're proactive," he said, citing the NYC's #NowPH campaign which "was primarily powered by tech-savvy millennials."
Pangilinan said social media played a huge role in the campaign that garnered 3 million climate action pledges – over and beyond the target of 1 million.
Dantes, who was part of the #NowPH campaign as former NYC commissioner, said the key now is consistency.
"Hindi pwedeng matapos sa isang stage lang, isang season lang (It can't end with just one stage, just one season). We have to do it repeatedly and influence others in the process," he added.
Lifestyle change
On Friday, Atienza said infrastructure is also to blame for why many of the sectors mentioned are highly vulnerable to climate change.
"The way that our cities, barangays, shelters, coastal communities are built, we really have to look at the way we build things. Local government units right now are trying to address this," she explained.
Atienza said it is important to "look at how we live" and to reconsider the way we build our infrastructure.
"As part of our mandate as the Climate Change Commission, we are working with all national government agencies, civil society organizations, NGOs, to try and address the way that we live. That's why we say it's a lifestyle change. How are we living? Our houses, our livelihoods, where are they positioned? Is it near the storm surge, is it a flood-prone area? Is that where landslides occur?"
Bryan McClelland, founder of socio-ecological enterprise Bambike, agreed with Atienza.
"On a certain level, an individual can only say or do so much. I think policies have to be in place and enforced. So regional zoning, proper management of developments. So both private and public sector, people who are building community developments or infrastructure in certain areas, need to know: Is this a geohazard? Is this on a floodplain? Is this going to be hit over and over again? And should we or should we not build here?"
He urged the audience to start thinking about development "in terms of lives" – regardless of what the private interests and profitability might be. 
"[It's] taking a step back and saying, 'Should we even be in this place to begin with, or should we allow reconstruction in certain areas when we know the vulnerability factor will be there ever present and increasingly?"
Organized by Rappler's civic engagement arm MovePH, the first-ever Agos Summit on Disaster Preparedness will run until Saturday, July 8.
The two-day summit aims to bring together key stakeholders, tackle pressing issues, and learn from good practices that mitigated risks or achieved zero casualties in a disaster scenario. – Rappler.com