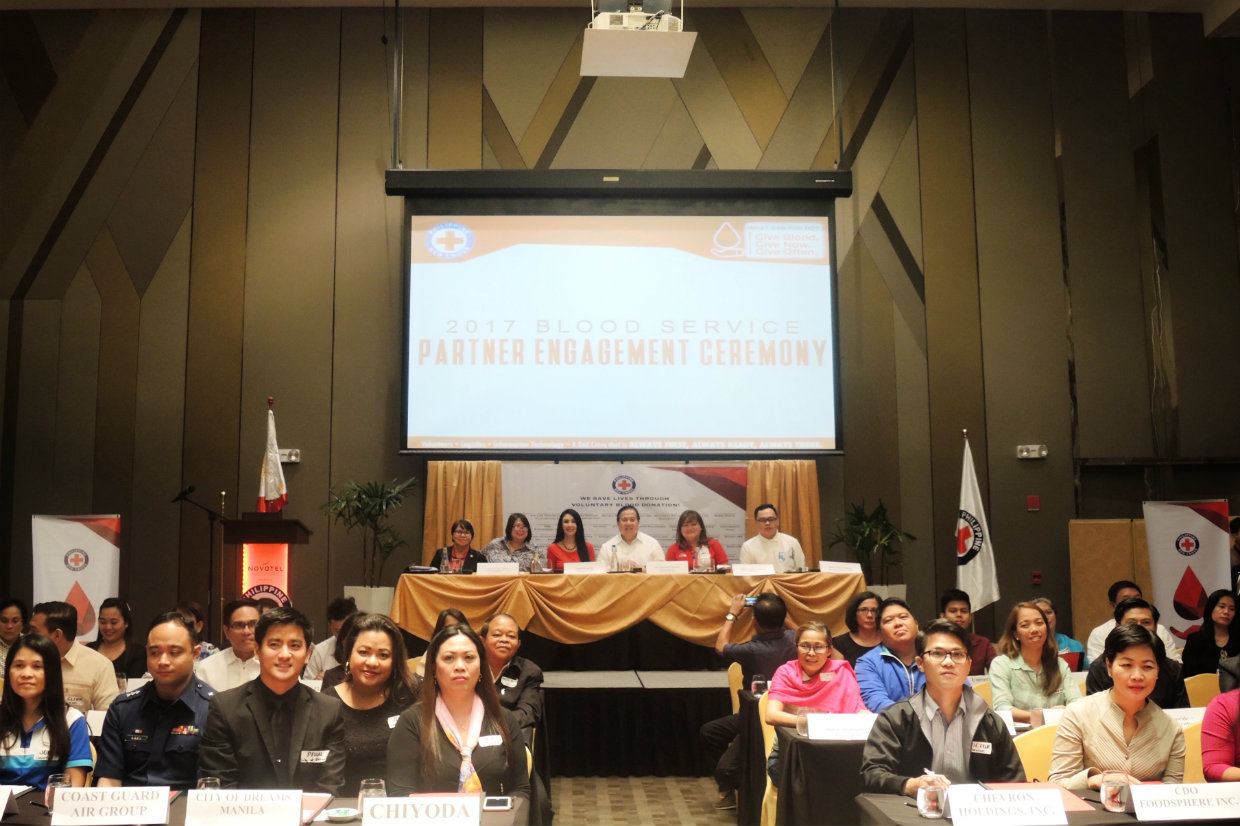 MANILA, Philippines – Staff from 62 organizations will be donating blood every year, as part of a newly signed deal with the Philippine Red Cross (PRC).
These groups signed a memorandum of agreement (MOA) during the 2017 Blood Service Partners' Engagement Ceremony on Wednesday, July 12.
The MOA comes as the PRC celebrates World Blood Donor Month.
Senator Richard Gordon, chairman of the PRC, highlighted the importance of the media in bloodletting activities. Among those that inked the agreement are Rappler, GMA Kapuso Foundation, CNN Philippines, and Bombo Radyo.
"This will be a partnership of sorts. We cannot draw all these people to come to the Red Cross without the communication arm," Gordon said.
The partnership aims to ensure that there is "enough supply of safe and quality blood products all over the country."
Here is the full list of partners:
City of Dreams Manila
Continental Temic Electronics Philippines
Technological Institute of the Philippines
JPMorgan
ROHM Electronics
Ever Bilena
Globe Telecom
S&R Shopping
GMA Kapuso Foundation
GSIS
Elizabeth Seton School
Golden Arches
Bombo Radyo
National University
Thomson Reuters
Landbank of the Philippines
Maxicare
SM Medical Services
Pasig Doctors Medical Center
Abbott
Chiyoda
Coast Guard Air Group
Philippine State College of Aeronautics
Air Link International Aviation College
CNN Philippines
Philippine Coast Guard Auxiliary
Teleperformance
Continental Temic
STI Global City
Golden ABC
Philippine Basketball Association
Golden Doughnuts
Chevron Holdings
ETrade
Philecology
Astoria Plaza
Building Care Corporation
Skill Power Institute Antipolo
Makati Development Corporation
University of Rizal System Cainta
Teresa Marble Corporation
San Juan, Batangas LGU
Batangas State University
Epson Precision Phils
CDO Foodsphere
Manila Water Company
STI - Muñoz
All Around Services and Merchandising Corporation
Gateways Institute of Science and Technology
Concentrix
Balungao LGU
Virgen Milagrosa University Foundation
Binalonan LGU
University of Luzon
Guardian Malasiqui
Robinsons Novaliches
Pacific Timber Corporation
Megawide - Head Office
Rappler
Energy FM
Philippine College of Criminology
University of the Philippines Los Baños
In 2016, the PRC provided a total of 407,000 units of blood, representing 50% of the total national collection of all blood service facilities in the country.
Gordon encouraged partners to participate in the bloodletting activities more often to maintain a steady supply of blood, especially for the benefit of the most vulnerable.
"This will complement the need to maintain an adequate supply of blood so that we can continue giving the gift of life," he said. – Marian Plaza / Rappler.com