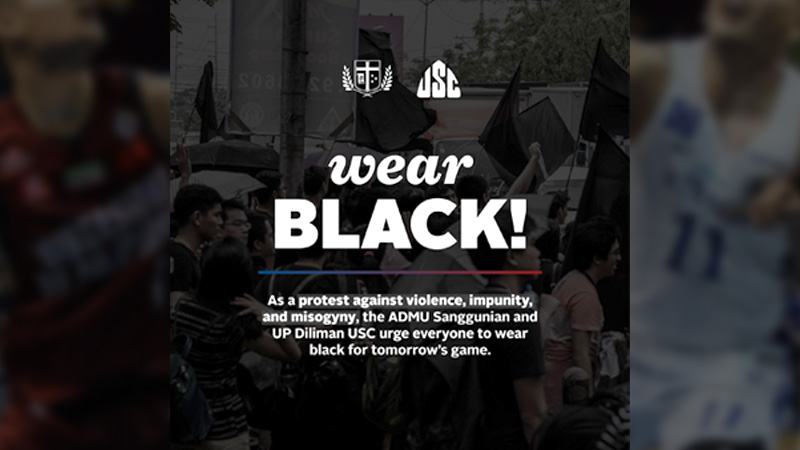 MANILA, Philippines – The student councils of the Ateneo de Manila University and the University of the Phiippines Diliman are capitalizing on the frenzy over the upcoming UAAP Finals opener between their respective teams to unite the two schools on issues that matter. (READ: Ateneo hopes to match wildly excited U.P. crowd) 
In two separate Facebook posts, ADMU Sanggunian and UP Diliman University Student Council (USC) jointly urged those watching the game live to wear black "as a protest against violence, impunity, and misogyny."
{source}
<iframe src="https://web.facebook.com/plugins/post.php?href=https%3A%2F%2Fweb.facebook.com%2FADMUSanggu%2Fposts%2F10156235678993075&width=500" width="500" height="663" style="border:none;overflow:hidden" scrolling="no" frameborder="0" allowTransparency="true" allow="encrypted-media"></iframe>
{/source}
Tickets to the much-awaited game sold out quickly as hundreds lined up at different SM Tickets outlets, hoping to watch the game live at the SM Mall of Asia Arena
"In the #BattleOfKatipunan tomorrow, let us always remember that our struggles go beyond the game that we're cheering for, and these struggles are always within our community," UP Diliman USC said.
"Win or lose, it's the nation we choose!" ADMU Sanggunian also said. 
Netizens took this call to action positively as they commended both student councils for the impressive display of camaraderie in the name of their love for the nation.
{source}
<blockquote class="twitter-tweet" data-lang="en"><p lang="en" dir="ltr">Solid to! &lt;3</p>&mdash; leo (@marklituanas) <a href="https://twitter.com/marklituanas/status/1068511690843537410?ref_src=twsrc%5Etfw">November 30, 2018</a></blockquote>
<script async src="https://platform.twitter.com/widgets.js" charset="utf-8"></script>
<iframe src="https://web.facebook.com/plugins/comment_embed.php?href=https%3A%2F%2Fweb.facebook.com%2FADMUSanggu%2Fposts%2F10156235678993075%3Fcomment_id%3D10156235877738075&include_parent=false" width="560" height="131" style="border:none;overflow:hidden" scrolling="no" frameborder="0" allowTransparency="true" allow="encrypted-media"></iframe>
<blockquote class="twitter-tweet" data-lang="en"><p lang="en" dir="ltr">Coordinating with Ateneo Sanggu with the calls for the game tomorrow. Really, really excited for the collab of the 2 universities! <br><br>WEAR BLACK to the games tomorrow! Whichever team you're supporting, Ateneo team man yan or UP let's show them how strong we are. <a href="https://twitter.com/hashtag/oustDuterte?src=hash&amp;ref_src=twsrc%5Etfw">#oustDuterte</a></p>&mdash; Kisha Beringuela (@kishaberinguela) <a href="https://twitter.com/kishaberinguela/status/1068497412262481922?ref_src=twsrc%5Etfw">November 30, 2018</a></blockquote>
<script async src="https://platform.twitter.com/widgets.js" charset="utf-8"></script>
<iframe src="https://web.facebook.com/plugins/comment_embed.php?href=https%3A%2F%2Fweb.facebook.com%2FADMUSanggu%2Fposts%2F10156235678993075%3Fcomment_id%3D10156235875348075&include_parent=false" width="560" height="171" style="border:none;overflow:hidden" scrolling="no" frameborder="0" allowTransparency="true" allow="encrypted-media"></iframe>
<blockquote class="twitter-tweet" data-lang="en"><p lang="en" dir="ltr">ATENEO and UP are one against violence.<br><br>Win or lose, it's the nation we choose!<br><br>We urge everyone to wear black for tomorrow's game as a protest against violence, impunity, and misogyny. <a href="https://twitter.com/hashtag/OurSanggu?src=hash&amp;ref_src=twsrc%5Etfw">#OurSanggu</a> <a href="https://t.co/okvx6zjQpx">https://t.co/okvx6zjQpx</a></p>&mdash; Ivan Bueno (@ivanlewisbueno) <a href="https://twitter.com/ivanlewisbueno/status/1068498534813458432?ref_src=twsrc%5Etfw">November 30, 2018</a></blockquote>
<script async src="https://platform.twitter.com/widgets.js" charset="utf-8"></script>
<iframe src="https://web.facebook.com/plugins/comment_embed.php?href=https%3A%2F%2Fweb.facebook.com%2FADMUSanggu%2Fposts%2F10156235678993075%3Fcomment_id%3D10156235849053075&include_parent=false" width="560" height="151" style="border:none;overflow:hidden" scrolling="no" frameborder="0" allowTransparency="true" allow="encrypted-media"></iframe>
<iframe src="https://web.facebook.com/plugins/comment_embed.php?href=https%3A%2F%2Fweb.facebook.com%2FADMUSanggu%2Fposts%2F10156235678993075%3Fcomment_id%3D10156235890378075&include_parent=false" width="560" height="131" style="border:none;overflow:hidden" scrolling="no" frameborder="0" allowTransparency="true" allow="encrypted-media"></iframe>
{/source}
What do you think of this move? Share your thoughts below! – Rappler.com