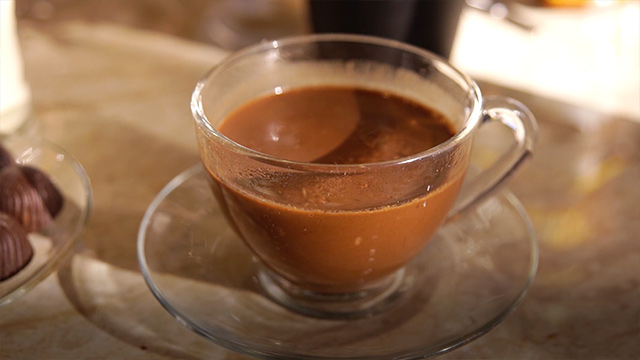 DAVAO CITY, Philippines – It's been said that to relive the Philippines' colorful past, one would only need to take a sip of velvety tsokolate, a traditional Filipino drink made of dissolved tablea.
The tablea, those blocks of ground cacao beans, are melted in hot water with the help of a batirol, a wooden whisk-like tool. The thick chocolate liquid is then mixed with milk and sugar.
But preparing the tsokolate takes time – time that the average Filipino can't afford to lose, especially those who wake up at before dawn to avoid the morning traffic jams on their way to school or work. The chosen breakfast would either the coffee a chocolate drink – and chances are, these are made using drink mixes in sachets.
And because of that, a young Filipina felt this is the chance to bring the tsokolate back on the table.
Harleen Jao returned to her hometown Davao City in 2010, after finishing college and passing the chemical engineer board exam. Her plan was like any other fresh graduate: to apply what she learned from university.
"And because I was an chemical engineering student, I thought of developing a product that's agricultural-based," she said.
She thought she can do so with cacao, one of the agricultural products Davao City produces in a large scale.
Around that time, Davao City had seen huge growth in cocoa exports. Already it was shipping to Malaysia, Thailand, Netherlands, China, and the United States.
But the Lasallista did not want to make money out of raw materials. "I'll get more money out of our agricultural products compared to just selling it as a raw material," she said.
Jao owns Nutrarich Nutraceutical Innovations, a company that is part of the Cacao Industry Development Association of Mindanao.
Her product: the classic tablea used by Filipino households for champorado and sikwate, the Cebuano term for that hot chocolate drink that usually goes with puto, the sticky rice snack steamed in coconut milk.
It's classic, yet her tableas have been made fit for the times. Filipinos, she said, have a longing for that good old tsokolate but just did not have the time to prepare it.
And so she found a solution. "I made it so fine so it's easier to cook."
The tableas, she said, don't take a long time to melt in boiling water. And it's still the same form of chocolate, the cacao liqueur, the purest form of roasted cacao beans, minus the chemicals.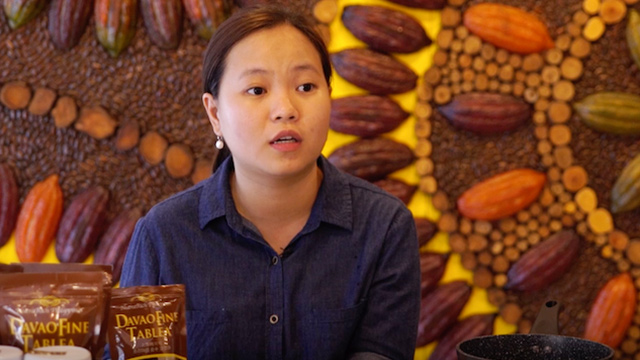 To be called chocolate, products should contain 100% cocoa butter. The European Union, for instance, requires that alternative fats do not exceed 5% of the total fat content.
On top of that, they just didn't have the same nutrients that of the sikwate, she said.
Thus, hot chocolate and cocoa powder, are two different things. Yet, for the long time, we've come to accept that instant chocolate drinks are, well, chocolate.
And the most ironic thing: the Philippines, being a tropical country where cacaos grow well, don't quite know about this.
"This is the real chocolate drink. The pure, the rich, and the nutritious chocolate drink," she said.
It is not difficult to understand where this health advocacy comes from. She comes from a family who supplies medicines in pharmacies. In 2013, she joined Tzu Chi Foundation for a medical mission in New Bataan, where thousands of families were recovering from Typhoon Pablo. At the time, the foundation said it was through her help that the medical mission was realized "through adequate supplies of medicines."
She admits, though, that as a newcomer in the industry, she will have to learn the ropes. The nitty-gritty of complying with government regulations and licenses, she said, are a challenge.
"I hope that even with this simple product of mine the Philippine cacao will be appreciated," said Jao, who in October joined the Philippine delegation in Paris, where Davao's Puentespina Farms was named among the world's best cacao beans producer.
Jao's vision is well reflected on her product, which by the look of it is gearing to grow big. Those yellow boxes that read what it contains, 100% chocolate, are also written in Chinese, Korean and Japanese.
It's a vision that's well defined, and something she could speak clearly: "It is a product that we can truly call our own, so I hope to inspire others." -- Rappler.com