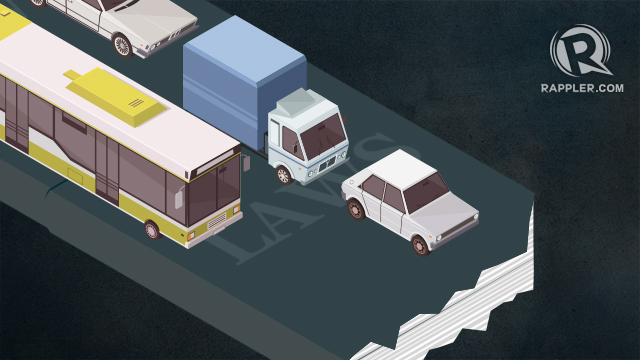 MANILA, Philippines – More than half of the vulnerable road users who died in road traffic crashes are motorists and pedestrians. However, the currently existing laws that seek to protect them are either lacking or outdated. 
During a Rappler Talk interview on Thursday, October 12, transportation expert and former Department of Transportation and Communications (DOTC) undersecretary Primitivo Cal shared why the country's laws are still very much 'lacking'.
"Compared to laws of other countries, we lack many traffic-related measures," he said.
An example of this lack would be on the laws that protect pedestrian safety. Cal pointed out an example of how pedestrian lanes like the "zebra crossing" is not implemented correctly. 
Under international practice, a "zebra crossing" must always give priority to pedestrians. Once a pedestrian stepped on the crossing, vehicles must stop.
In the Philippines, however, these facilities are usually present at signalized intersections, where pedestrians are not always given the priority especially when the signal light turns green. 
The Land Transportation Code, for example, was enacted more than five decades ago in 1964 and might not have comprehensive and updated provisions appropriate to the current road traffic conditions. 
For pedestrian safety, the code only mentioned yielding the right of way to pedestrians.
"The driver of any vehicle upon a highway within a business or residential district shall yield the right of way to a pedestrian crossing such highway within a crosswalk, except at intersections where the movement of traffic is being regulated by a peace officer or by traffic signal" the law stated.
 According to a report from the World Health Organization, motorcycle riders and pedestrians are the most vulnerable on the road. They are 72% of the total road crash deaths in the country in 2015.  (READ: Road deaths in PH: Most are motorcycle riders, pedestrians )
 Aside from pedestrian safety, Cal also mentioned the lack of legislation for cyclists.
The data from the World Health Organization also stated that more than half of the road deaths in the Philippines are motorists. In Metro Manila alone, there were 23,105 incidents of road crash incidents in 2016. I
Just last year, a cyclist was killed when she was run over by a dump truck in Marikina. 
Cal also recognized the "obsolete" provisions of the speed limits indicated in the Land Transportation Code. 
While the code prohibits provincial, city or municipal authority to enforce any ordinance or resolution specifying speed limits, some local government units are have already set local speed limits exercising their mandate provided by the Local Government Code to  "exercise all powers granted to it in order to promote health and safety, among others." (READ: What you need to know about speed limits in the Philippines )
Cal suggested efforts to address the worsening traffic condition in the country. He emphasized the need for a better public transport system, in particular, the rail transit system. It is only after improving this can the stricter traffic restraint measure be implemented. 
The transportation expert added that ultimately, education and enforcement must be strengthened to effectively improve road safety in the Philippines. – Rappler.com