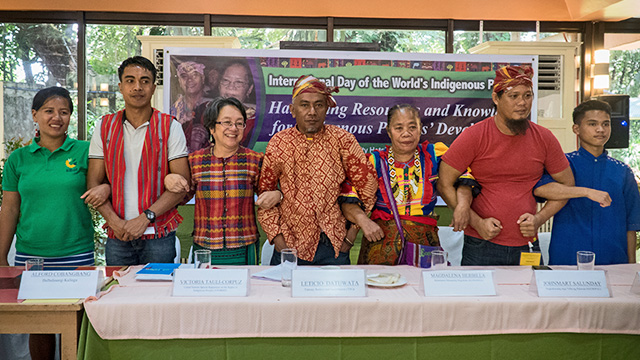 MANILA, Philippines – The declaration of martial law in Mindanao and the ongoing war between government forces and terrorists in Marawi City have further undermined the rights of indigenous peoples.
They claimed that the imposition of martial law has instilled fear among indigenous peoples and has displaced them from their communities.
"Noong diniklara ang martial law noong May 23, naramdaman agad namin. Naging istrikto ang checkpoints at hinihingian ng ID ang mga katutubo. Kapag walang ID, ituturing na terorista," Eufemia Cullamat, an elder of the Manobo tribe, said.
(We immediately felt the effects of martial law upon its declaration on May 23. Checkpoints have been stricter and indigenous peoples were asked to show their IDs. You're considered a terrorist if you don't have one.) 
On July 6, members of the Manobo tribe in Lianga town in Surigao del Sur left their village after bomber planes allegedy hovered over their community, Cullamat, an elder of the tribe, said.
To date, at least 89 alternative Lumad schools have been affected by "militarization" and indiscriminate firing in indigenous areas, according to Save Our Schools Network.
Indigenous peoples continue to lose their lands, territories, and resources, are unable to fully access basic social services, and are subjected to various forms of human rights violations, including extrajudicial killings and displacement. 
Fear of rights violations
Meanwhile, an indigenous leader from the Lambangian tribe complained that their activities in their communities have also been restricted.
"Hindi ka makapag-activity kung wala kang consent sa local government at galing doon sa PNP o AFP," according to Leticio Datuwata, deputy secretary general of the Mindanao Peoples' Peace Movement's Katawhang Lumad (MPPM-KL).
(We cannot hold any activity without the consent of the local government and the Philippine National Police or the Armed Forces of the Philippines.)
"Ayaw namin ang martial law kasi ang martial law, mawala ang karapatan ng mga katutubong leader na i-invoke ang kanilang right of habeas corpus dahil sa sitwasyon ngayon," Datuwata said. 
(We oppose martial law because it takes away the right of indigenous leaders to petition for a writ of habeas corpus.)
The writ safeguards individual freedom against arbitrary state action. Its suspension only applies to "persons judicially charged for rebellion or offenses inherent in or directly connected with the invasion."
Datuwata feared that if they assert their rights, they will be identified with Leftist and Moro rebels.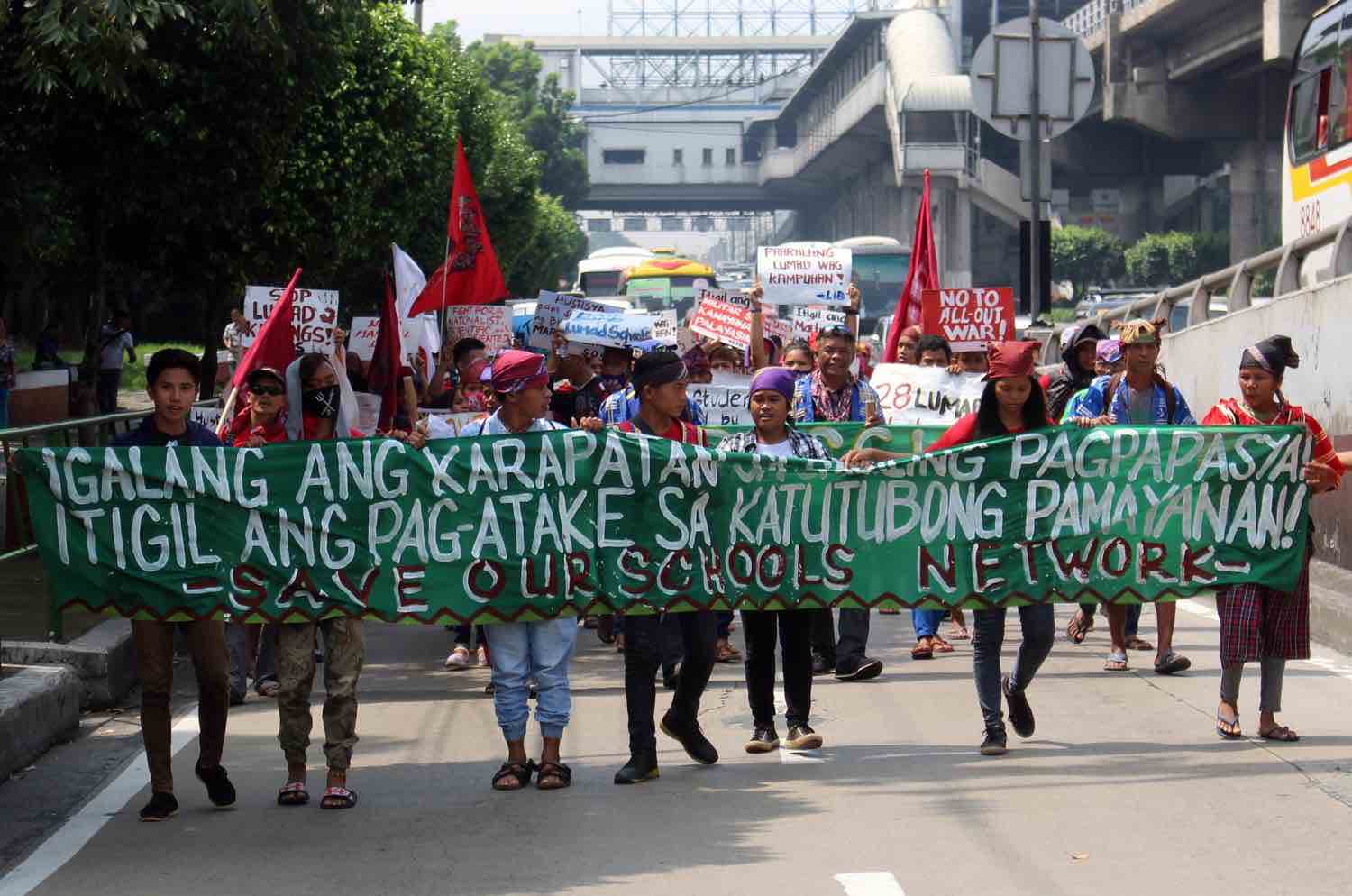 Not their wars
Datuwata also said that the conflict in Mindanao had worsened the situation of indigenous peoples there.
"We have been greatly affected by wars which are not ours," he said, adding that "the conflict is made worse by the recruitment and deployment of Lumads by all parties to the wars."
Since battles are waged in their territories and involve their own people, he emphasized the importance of involving the Lumad in any peace process, the recognition of the Indigenous Peoples' Rights Act (IPRA), and full respect of their rights in peace agreements or laws, such as the proposed Bangsamoro Basic Law (BBL).
At the end of the day, the Lumad people only wish for peace to come and for them to be able toreturn to their normal lives unharmed, Datuwata said.
Datuwata and other Lumad leaders shared their stories and issues with Victoria Tauli-Corpuz, the United Nations special rapporteur (UNSR) on the rights of indigenous peoples, in a gathering at the University of the Philippines Diliman in Quezon City on August 9 to observe the International Day of the World's Indigenous Peoples.
UN special rapporteur's call
The UN special rapporteur, herself an indigenous person from the Cordillera region, reminded the Duterte administration to uphold international human rights standards.
"On my part as the Special Rapporteur, it is really a basic violation of human rights – of indigenous peoples' right to mobility, to life, as well as the right to due process. You cannot just be identified and on that basis, be killed. That is totally against the international human rights standards that the government of the Philippines has ratified," Tauli-Corpuz said.
Since President Rodrigo Duterte assumed power, the UNSR has received 20 cases of killings of indigenous peoples.
Tauli-Corpuz challenged indigenous peoples to "build their confidence and strengthen their own forms of governance and representation for them to be able to establish constructive dialogue and engagement with international and national authorities, public officials, and the private sector."
She recognized that there are still a lot of tasks ahead for indigenous peoples to fully enjoy their rights as enshrined in the UN Declaration and the IPRA. 
Know more about the plight of the indigenous peoples in Mindanao in this Rappler Talk interview with members of the Manobo tribe. (WATCH: The love-hate relationship between Duterte and the Lumad)
– Rappler.com