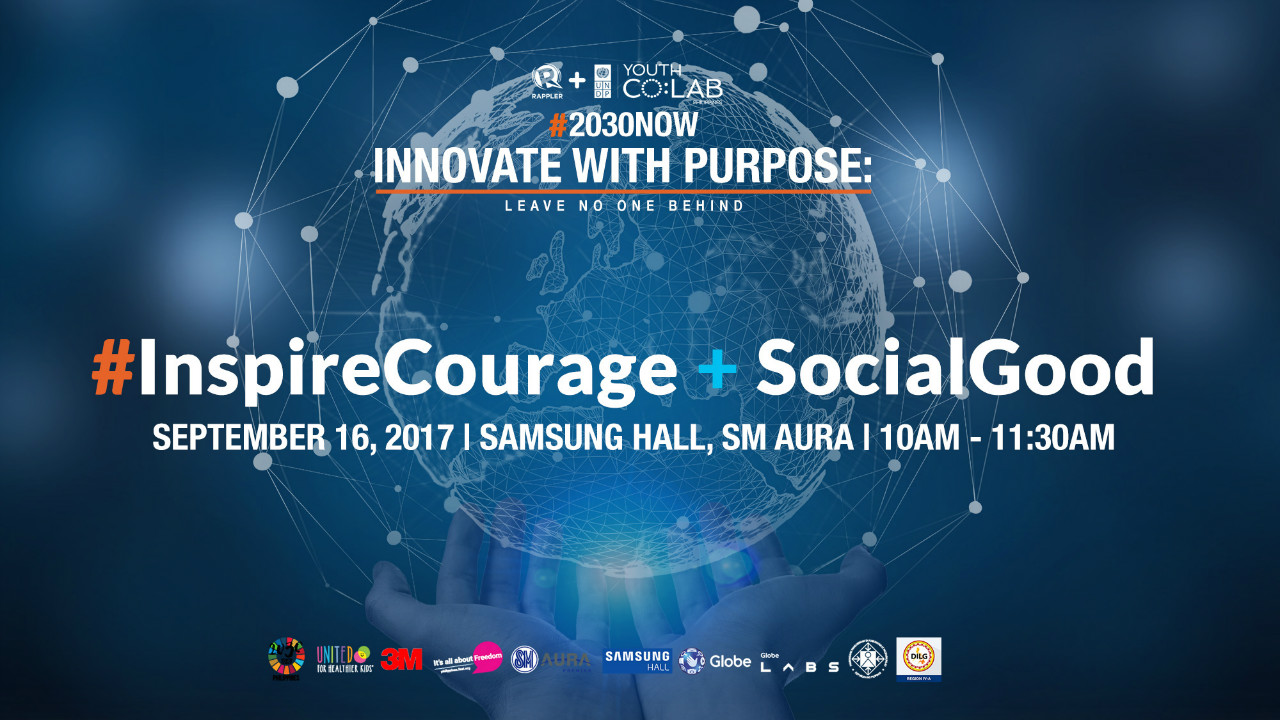 Bookmark this page for updates
MANILA, Philippines – Listen to people with passion projects and how they faced challenges as they carry them out.
On Saturday, September 16, Rappler and the United Nations in the Philippines, through the United Nations Development Programme, will hold the main event of the 2017 Manila Social Good Summit.
The 2017 Manila Social Good Summit will explore the purpose of innovation and push back to the center stage the massive and urgent needs that the society faces. 
At 10 am, groups and individuals will share their stories on programs and initiatives they are passionate about at the #InspireCourage +SocialGood stories segment. (READ: Meet the speakers and guests at the 2017 Manila Social Good Summit)
Here's the program for the #InspireCourage +SocialGood segment:
#InspireCourage +SocialGood 

10 to 11:30 am

PROGRAM HOSTS
Natashya Gutierrez
Rappler Regional Correspondent for Southeast Asia
Atom Araullo
UNHCR Advocate

 

10:00 AM to 10:05 AM

Welcome Remarks

Rupert Ambil

Executive Director, Move.PH

10:05 AM to 10:20 AM

Keynote speech:

Youth and Entrepreneurship

Sec. Joey Concepcion

Presidential Adviser for Entrepreneurship

10:21 AM to 10:28 AM

Women's health

Zarina San Jose

World Youth Alliance Asia Pacific

10:28 AM to 10:35 AM

HIV Awareness

Paul Junio

LoveYourself

10:37 AM to 10:44 AM

How do we achieve safer roads in the Philippines?

PSUPT (Atty) Oliver Sy Tanseco

Highway Patrol Group

10:44 AM to 10:49 AM

Why we ride

Myles Delfin

Bike Scouts

10:49 AM to 10:56 AM

Why farming is important

Ryan Bestre

#IAmHampasLupaEcological Agriculture Movement

10:56 AM to 11:03 AM

Education and bottled water

Micaela Agoncillo

Generation Hope

11:03 to 11:18 AM

Advocacy to solve hunger and malnutrition

Eunice Braga

Ogilvy & Mather Philippines

11:18 AM to 11:25 AM

Giving hope to the hopeless

Fr Flavie Villanueva

Andrew Janssen Kalinga Center
– Rappler.com
Tell us what you think about the 2017 Manila Social Good Summit by tweeting with the hashtag #2030NOW!