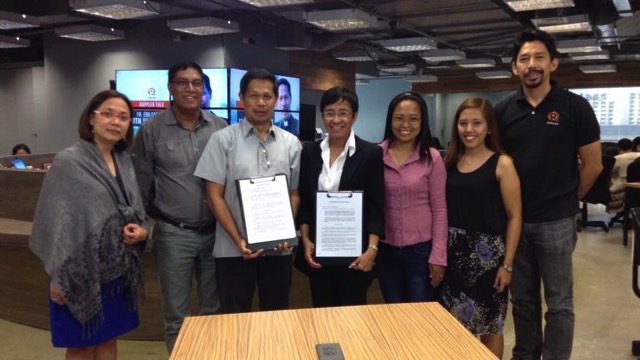 MANILA, Philippines - Rappler and Caritas Philippines inked an agreement on September 3 to raise awareness for disaster preparedness and promote volunteerism and citizen journalism across the country.
Caritas Philippines, the humanitarian and development arm of the Catholic Bishops' Conference of the Philippines, will work closely with MovePH, Rappler's civic engagement arm to tell stories of hope, faith, and resilience in the country. 
The agreement was signed by Rappler CEO Maria Ressa and Caritas Philippines Executive Secretary Rev Fr. Edwin Gariguez following a Rappler Talk hosted by Ressa with Fr. Gariguez. (READ: Faith, life and technology can be on one path)
Both groups commit to using social media to empower the youth to tell their stories and the stories of the voiceless and marginalized. 
MovePH will conduct workshops on "social media for social good" for Caritas volunteers and communities as well as citizen journalists all over the country. Caritas will use Rappler's self-publishing platform, Rappler X, to share stories on disaster preparedness and resilience. 
Caritas Philippines joins other organizations such as the Philippine Red Cross, Xavier University, and Visayas State University in the MovePH Network. Members of the network are able to reach a wider audience thanks to social media and the energy of their on-ground communities. To know more about the MovePH Network, email move.ph+network@rappler.com. - Rappler.com